CellMeter-7 Digital Battery Capacity Checker (LiPo LiFe Li-ion NiMH Nicd RC BK20)
CellMeter-7 Digital Battery Capacity Checker (LiPo LiFe Li-ion NiMH Nicd RC BK20)
Product Description
CellMeter-7 Digital Battery Capacity Checker

The Cellmeter-7 is a must have tool for every RC Hobbyist, not only is it capable of instantly checking the overall and individual cell voltage of Lipo/Life & Li-ion batteries that have balance plugs fitted, it can also give you an instant reading of the remaining capacity of the battery at the same time, eliminating any guess work!
The mode button also allows you to check highest and lowest individual cells and voltage differences between individual cells, finally, as well as the Lithium battery port, there is an additional receiver style 3 pin port for checking overall voltage on Nimh/Nicd RX batteries.
The Cellmeter-7 is a simple, fast and brilliant way to check battery voltage and most importantly, help you determine the condition of your packs within seconds!
Features:
Easy to read LCD display

Battery types : Li-ion / LiPo / LiFe / NiCd / NiMH / Pb

Precise Measurement of 1-8 cell voltages

Monitors the voltage of individual cells

Display cell with highest and lowest voltage

Display difference between highest & lowest cells
Specifications:
Pack voltage range: 3.3 - 24.0 Volts

Cell voltage range: 0.5 - 5.0 Volts

Voltage display resolution: 0.001Volts

Weight : 40g (Net Weight)

Dimensions (mm) : 84 x 50 x 16
Package Contents:
LiPo

LiFe

Li-lon

NiCd

NiMH

Input cells

2-7 cells

2-7 cells

2-7 cells

4-7 cells

4-7 cells

Total Voltage

√

√

√

√

√

Total cell battery capacity (0-99%)

√

√

√

X

X

Individual Battery cell voltage

√

√

√

X

X

Lowest cell voltage

√

√

√

X

X

Highest cell voltage

√

√

√

X

X

Voltage Difference Between

Highest and lowest cell voltages

√

√

√

X

X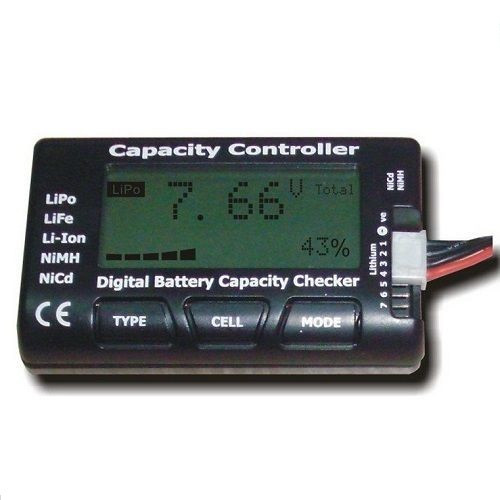 ---
Find Similar Products by Category
---
Customers Who Viewed This Product Also Viewed